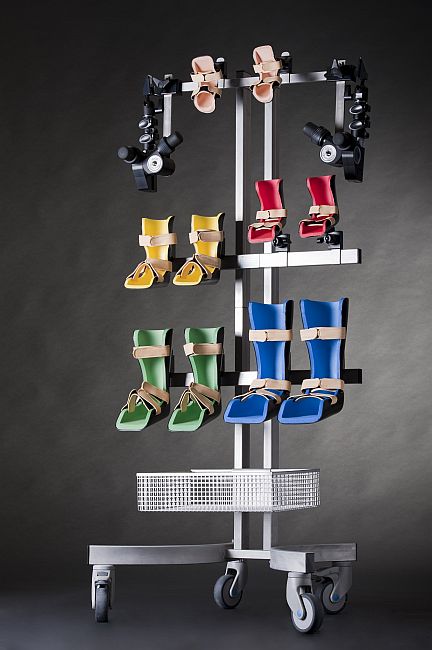 With this Cart you can keep the PediStirrup set organized.
This strong and lightweight trolley holds and transports your stirrups and all necessary accessories.
The deep storage bin is a great place to store clamps and pads securely.
Article number: 1141000 PediStirrup Cart
It is possible to order specific additional shoes or parts for replacement.
In the table below you will find an overview:
Part number

 

Description

 

1111247

PediStirrup Set - complete

1121020

Shoe size 1 (1 pair of shoes supplied with 2 x 2 Velcro straps)

1122020

Shoe size 2 (1 pair of shoes supplied with 2 x 2 Velcro straps)

1123030

Shoe size 3 (1 pair of shoes supplied with 2 x 3 Velcro straps)

1124030

Shoe size 4 (1 pair of shoes supplied with 2 x 3 Velcro straps)

1125030

Shoe size 5 (1 pair of shoes supplied with 2 x 3 Velcro straps)

1131000

4 Velcro fixation straps to be used for shoe size 1 and 2

1132000

6 Velcro fixation straps to be used for shoe size 3 and 4

1133000

6 Velcro fixation straps to be used for shoe size 5

87100182

Laser positioner

1151001

Universal rail clamp EUR/US